Limericks in Poetry:
There was an Old Man with a beard, Who said, 'It is just as I feared! Two Owls and a Hen, Four Larks and a Wren, Have all built their nests in my beard! '
-Edward Lear, A Book of Nonsense, 1846
There once was a man from Nantucket Who kept all his cash in a bucket. But his daughter, named Nan, Ran away with a man And as for the bucket, Nantucket.
-Dayton Voorhees,1902
Hickory, dickory, dock. The mouse ran up the clock. The clock struck one, The mouse ran down, Hickory, dickory, dock. [or the mouse did run, in the Mother Goose version]
-Agatha Christie, 1955
Hickory, dickory, dock. The mouse ran up the clock. The clock struck one and the other sustained serious injuries leading to a prolonged and expensive suit.
-Modern version, today
Odes
Carpe diem, quam minimum credula postero. [Pluck the day (for it is ripe), trusting as little as possible in tomorrow."
-Quintus Horatius Flaccus/Horace, [December 8, 65 BCE-November 27, BCE]
Creatures for a day! What is a man?What is he not? A dream of a shadow Is our mortal being. But when there comes to men A gleam of splendor given of heaven.
-Pindar/Pindarus, [c. 518 BCE – c. 438 BCE], Olympian Ode 1,
written for the heroes of the original Olympiad
The Rainbow comes and goes, And lovely is the Rose, The Moon doth with delight Look round her when the heavens are bare.
– William Wordsworth [April 7, 1770-April 23, 1850], Ode on
Imitations of Immortality from Recollections of Early Childhood
O wild West Wind, thou breath of Autumn's being, Thou, from whose unseen presence the leaves dead Are driven, like ghosts from an enchanter fleeing.
– Percy Bysshe Shelley [August 4, 1792-July 8, 1822], Ode to the West Wind
Row after row with strict impunity The headstones yield their names to the element, The wind whirrs without recollection; In the riven troughs the splayed leaves.
–John Orley Allen Tate [November 19, 1899-February 9, 1979], Ode to the Confederate Dead
My heart aches, and a drowsy numbness pains My sense, as though of hemlock I had drunk ,Or emptied some dull opiate to the drains One minute past, and Lethe-wards had sunk.
-John Keats [October 31, 1795-February 23, 1821], Ode to a nightingale
"Season of mists and mellow fruitfulness,
Close bosom-friend of the maturing sun;
Conspiring with him how to load and bless
With fruit the vines that round the thatch-eaves run;"
-John Keats, Ode to Autumn
"Happy the man, whose wish and care A few paternal acres bound, Content to breathe his native air, In his own ground.
– Alexander Pope [May 21,1688–May 30, 1744], Ode on Solitude
Haikus
An old silent pond . . .
A frog jumps into the pond
Splash! Silent again.
-Matsuo Bashō [1644–November 28, 1694]
Autumn moonlight –
A worm digs silently
Into the chestnut
-Matsuo Bashō
For love and for hate
I swat a fly and offer it
to an ant.
-Masaoka Naboru, pen name Masaoka Shiki [October 14, 1867-September 19, 1902]
After killing
A spider, how lonely I feel
in the cold of night."
-Masaoka Shiki
O snail
Climb Mount Fuji,
But slowly, slowly!
– Kobayashi Issa [June 15, 1763-January 5, 1828]
Trusting the Buddha, good and bad,
I bid farewell
To the departing year.
-Kobayashi Issa
One flower
On the cliffside
Nodding at the canyon.
-Jean-Louis Lebris de Kérouac/Jack Kerouac, Book of Haikus
"Morning sun –
The purple petal,
Four have fallen."
-Jack Kerouac
Alba
As cool as the pale wet leaves
of lily-of-the-valley
She lay beside me in the dawn.
-Ezra Pound [October 30, 1885-November 1, 1972]
Concrete poems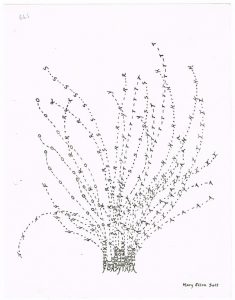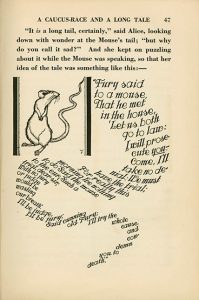 Epigrams
There is only one thing worse in the world than being talked about, and that is not being talked about.
–Oscar Fingal O'Fflahertie Wills Wilde/Oscar Wilde [October 16, 1854-November 30, 1900]
To see a world in a grain of sand, And a heaven in a wild flower, Hold infinity in the palm of your hand, And eternity in an hour
– William Blake [November, 28 1757-August 12, 1827]
So all my best is dressing old words new, Spending again what is already spent: For as the sun is daily new and old, So is my love still telling what is told
–William Shakespeare [bapt. April 26, 1564-April 23, 1616]
Little strokes fell great oaks.
–Benjamin Franklin FRS FRSA FRSE [January 17, 1706 O.S.-January 6, 1705–April 17, 1790]
Mankind must put an end to war, or war will put an end to mankind.
-John Fitzgerald Kennedy [May 29, 1917-November 22, 1963]
To err is human, to forgive, divine.
– Alexander Pope
Beauty is only skin deep, but ugly goes clean to the bone.
Dorothy Rothschild Parker [August 22, 1893-June 7, 1967] Beauty and the Deep
The time you won your town the race
We chaired you through the market-place;
Man and boy stood cheering by,
And home we brought you shoulder-high.
Today, the road all runners come,
Shoulder-high we bring you home,
And set you at your threshold down,
Townsman of a stiller town.
Smart lad, to slip betimes away
From fields where glory does not stay,
And early though the laurel grows
It withers quicker than the rose.
Eyes the shady night has shut
Cannot see the record cut,
And silence sounds no worse than cheers
After earth has stopped the ears.
Now you will not swell the rout
Of lads that wore their honours out,
Runners whom renown outran
And the name died before the man.
So set, before its echoes fade,
The fleet foot on the sill of shade,
And hold to the low lintel up
The still-defended challenge-cup.
And round that early-laurelled head
Will flock to gaze the strengthless dead,
And find unwithered on its curls
The garland briefer than a girl's.
A.E. Housman, To an athlete dying young
But Mousie, thou art no thy-lane,
In proving foresight may be vain:
The best laid schemes o' Mice an' Men
Gang aft agley,
An' lea'e us nought but grief an' pain,
For promis'd joy!
-Robert Burns, Ode to a mouse
But at my back I always hear
Time's wingèd chariot hurrying near;
And yonder all before us lie
Deserts of vast eternity…
Now therefore, while the youthful hue
Sits on thy skin like morning dew,
And while thy willing soul transpires
At every pore with instant fires,
Now let us sport us while we may,
And now, like amorous birds of prey,
Rather at once our time devour
Than languish in his slow-chapped power.
Let us roll all our strength and all
Our sweetness up into one ball,
And tear our pleasures with rough strife
Through the iron gates of life:
Thus, though we cannot make our sun
Stand still, yet we will make him run
-Andrew Marvell [March 31, 1621-August 18, 1678] To his coy mistress
In Flanders fields the poppies blow
Between the crosses, row on row,
That mark our place; and in the sky
The larks, still bravely singing, fly
Scarce heard amid the guns below.
We are the Dead. Short days ago
We lived, felt dawn, saw sunset glow,
Loved and were loved, and now we lie,
In Flanders fields.
Take up our quarrel with the foe:
To you from failing hands we throw
The torch; be yours to hold it high.
If ye break faith with us who die
We shall not sleep, though poppies grow
-Lieutenant-Colonel John McCrae [November 30, 1872-January 28, 1918), In Flanders Fields
How do I love thee? Let me count the ways.
I love thee to the depth and breadth and height
My soul can reach, when feeling out of sight
For the ends of being and ideal grace.
I love thee to the level of every day's
Most quiet need, by sun and candle-light.
I love thee freely, as men strive for right.
I love thee purely, as they turn from praise.
I love thee with the passion put to use
In my old griefs, and with my childhood's faith.
I love thee with a love I seemed to lose
With my lost saints. I love thee with the breath,
Smiles, tears, of all my life; and, if God choose,
I shall but love thee better after death.
-Elizabeth Barrett Browning [1806-1861], How Do I Love Thee? (Sonnet 43)
So live, that when thy summons comes to join
The innumerable caravan, which moves
To that mysterious realm, where each shall take
His chamber in the silent halls of death,
Thou go not, like the quarry-slave at night,
Scourged to his dungeon, but, sustained and soothed
By an unfaltering trust, approach thy grave,
Like one who wraps the drapery of his couch
About him, and lies down to pleasant dreams.
-William Cullen Bryant [November 3, 1794-June 12, 1878], Thanatopsis
He takes up my days and nights
He really is a 24/7 chore
He takes away order and creates a mess
He wakes me to wonder and inner strength
He introduces me to minimalistic things
And the importance of sacrifices
He tests me in patience, prayer, and play
He brings with him laughter and joy
So now I see
My baby is transforming into a toddler
-Fion Lim, The Unglam Mom
Baby, please help me this is all brand new.
I need your guidance in taking care of you.
I'll need you to cry when you're hungry or wet.
I'll need you to quiet when you're feeling content.
With every action you take valuable skills I'll earn.
But, I'll need you to be patient as I've got lots to learn.
Parenting won't be easy but when push comes to shove
There's one skill I was born with and that's showing you, my love.
-Michele Meleen, Baby, Teach Me
My child arrived just the other day
He came to the world in the usual way
But there were planes to catch, and bills to pay
He learned to walk while I was away
And he was talking 'fore I knew it, and as he grew
He'd say "I'm gonna be like you, dad"
"You know I'm gonna be like you"
And the cat's in the cradle and the silver spoon
Little boy blue and the man in the moon
"When you coming home, dad?" "I don't know when"
But we'll get together then
You know we'll have a good time then
My son turned ten just the other day
He said, thanks for the ball, dad, come on let's play
Can you teach me to throw, I said-a, not today
I got a lot to do, he said, that's okay
And he, he walked away, but his smile never dimmed
It said, I'm gonna be like him, yeah
You know I'm gonna be like him
And the cat's in the cradle and the silver spoon
Little boy blue and the man in the moon
"When you coming home, dad?" "I don't know when"
But we'll get together then
You know we'll have a good time then
Well, he came from college just the other day
So much like a man I just had to say
Son, I'm proud of you, can you sit for a while?
He shook his head, and they said with a smile
What I'd really like, dad, is to borrow the car keys
See you later, can I have them please?
And the cat's in the cradle and the silver spoon
Little boy blue and the man in the moon
"When you coming home, son?" "I don't know when"
But we'll get together then, dad
You know we'll have a good time then
I've long since retired, my son's moved away
I called him up just the other day
I said, I'd like to see you if you don't mind
He said, I'd love to, dad, if I can find the time
You see, my new job's a hassle, and the kids have the flu
But it's sure nice talking to you, dad
It's been sure nice talking to you
And as I hung up the phone, it occurred to me
He'd grown up just like me
My boy was just like me
And the cat's in the cradle and the silver spoon
Little boy blue and the man in the moon
"When you coming home, son?" "I don't know when"
But we'll get together then, dad
We're gonna have a good time then
-Harry Forster Chapin [December 7, 1942- July 16, 1981], Sandra "Sandy" Gaston [b. 1934]
Cat's in the Cradle lyrics
Sonnets
Shall I compare thee to a summer's day?
Thou art more lovely and more temperate.
Rough winds do shake the darling buds of May,
And summer's lease hath all too short a date.
Sometime too hot the eye of heaven shines,
And often is his gold complexion dimmed;
And every fair from fair sometime declines,
By chance, or nature's changing course, untrimmed;
But thy eternal summer shall not fade,
Nor lose possession of that fair thou ow'st,
Nor shall death brag thou wand'rest in his shade,
When in eternal lines to Time thou grow'st.
So long as men can breathe, or eyes can see,
So long lives this, and this gives life to thee.
-William Shakespeare [1564-1616], Shall I compare
thee to a summer's day? (Sonnet 18)
Weary with toil, I haste me to my bed,
The dear repose for limbs with travel tired;
But then begins a journey in my head,
To work my mind, when body's work's expired:
For then my thoughts, from far where I abide,
Intend a zealous pilgrimage to thee,
And keep my drooping eyelids open wide,
Looking on darkness which the blind do see
Save that my soul's imaginary sight
Presents thy shadow to my sightless view,
Which, like a jewel hung in ghastly night,
Makes black night beauteous and her old face new.
Lo! thus, by day my limbs, by night my mind,
For thee and for myself no quiet find.
-William Shakespeare, Sonnet 27
When to the sessions of sweet silent thought
I summon up remembrance of things past,
I sigh the lack of many a thing I sought,
And with old woes new wail my dear time's waste:
Then can I drown an eye, unused to flow,
For precious friends hid in death's dateless night,
And weep afresh love's long since cancell'd woe,
And moan the expense of many a vanish'd sight:
Then can I grieve at grievances foregone,
And heavily from woe to woe tell o'er
The sad account of fore-bemoaned moan,
Which I new pay as if not paid before.
But if the while I think on thee, dear friend,
All losses are restored and sorrows end.
-William Shakespeare, Sonnet 30
That time of year thou mayst in me behold
When yellow leaves, or none, or few, do hang
Upon those boughs which shake against the cold,
Bare ruin'd choirs, where late the sweet birds sang.
In me thou see'st the twilight of such day
As after sunset fadeth in the west,
Which by and by black night doth take away,
Death's second self, that seals up all in rest.
In me thou see'st the glowing of such fire
That on the ashes of his youth doth lie,
As the death-bed whereon it must expire,
Consum'd with that which it was nourish'd by.
This thou perceiv'st, which makes thy love more strong,
To love that well which thou must leave ere long.
-William Shakespeare, Sonnet 3
When I consider how my light is spent,
Ere half my days, in this dark world and wide,
And that one Talent which is death to hide
Lodged with me useless, though my Soul more bent
To serve therewith my Maker, and present
My true account, lest he returning chide;
"Doth God exact day-labour, light denied?"
I fondly ask. But patience, to prevent
That murmur, soon replies, "God doth not need
Either man's work or his own gifts; who best
Bear his mild yoke, they serve him best. His state
Is Kingly. Thousands at his bidding speed
And post o'er Land and Ocean without rest:
They also serve who only stand and wait."
-John Milton [December 9, 1608-8 November 8, 1674], Sonnet 19:
When I consider how my light is spent/On his blindness
No matter where—of comfort no man speak:    
Let's talk of graves, of worms, and epitaphs;       
Make dust our paper, and with rainy eyes            
Write sorrow on the bosom of the earth;              
Let's choose executors and talk of wills. 
And yet not so—for what can we bequeath        
Save our deposed bodies to the ground?              
Our lands, our lives, and all are Bolingbroke's,   
And nothing can we call our own but death;        
And that small model of the barren earth             
Which serves as paste and cover to our bones.  
For God's sake let us sit upon the ground
And tell sad stories of the death of kings:              
How some have been depos'd, some slain in war,             
Some haunted by the ghosts they have deposed,             
Some poisoned by their wives, some sleeping kill'd,
-William Shakespeare, Richard II, Act 3, Scene 2
Miscellany
Grammerly is a fine bit of artificial intelligence designed to correct one's writing. It is also frustrating. When I put a comma in, Grammerly tells me to take it out. When I leave a comma out, Grammerly tells me to put it in. I think I am going to be in a Grammerly coma.
-Unknown
Are you pro-life or poor choice?