Becoming A Published Author
Agony and Ecstasy of Writing a Book
By Evan and Lois Swensen
Chapter Fifteen
Author of Many Hats
Kayla Hunt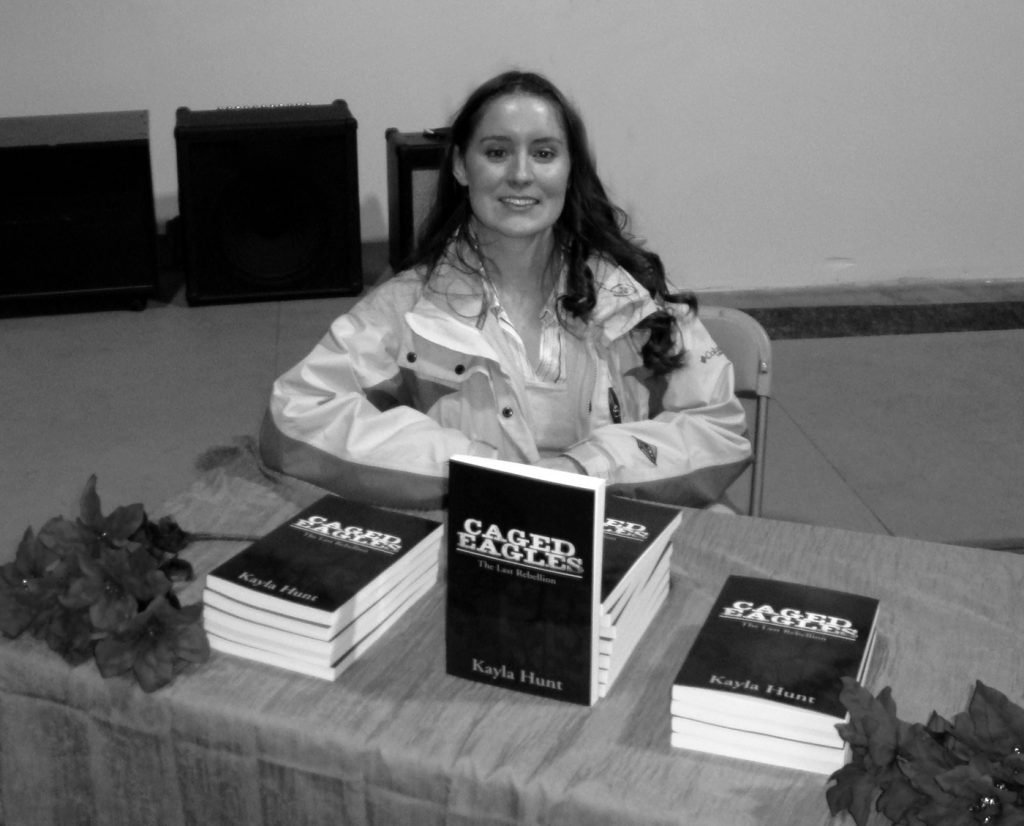 My story began many years ago when I was seven. I hated reading—plain and simple. There were better things to do, like climb trees and play in the irrigation ditches. My parents struggled with me for many nights trying to get me to read, but all I did was look up and see the outdoors calling me. My first-grade teacher listened to my parents' troubles and took the time to find stories equal to the adventures I had on my family's ranch.
I fell into the magical world of literature. I had not realized at that early age that imagination could take me to endless numbers of places. I quickly became known as the girl with her nose in a book.
In fifth grade, my passion had grown so much that I found myself wondering if I should start my own book. Why not? The authors I read had done it; how hard could it be? I will not forget the fall day in 1995 when I came home to see an eighty-page spiral-bound green notebook waiting on my bed.
I asked my mother, "What is this for?"
She stated matter-of-factly, "For the book you want to write."
My future was decided right there, with that sixty-eight-cent notebook. I told my mother several months later, and ten pages into my story, "I know what I want to do when I grow up; I'm going to be a writer."
The stories came in waves after I set pen to paper. My imagination didn't stop no matter what I was doing, sitting in class, climbing a tree, running across an alfalfa field, or riding the school bus to school. I constantly made up little anecdotes or plots to follow my daily activities. The world of make-believe continues to run parallel to my life almost two decades later.
Years turned by, one after another, and I had grown up! I became a private music instructor and receptionist. However, the dream of being a published author had not left my mind. In 2009 I diligently worked to get one of my manuscripts published. Each month I sent out at least ten query letters to publishing houses and agents. I spent my spare moments going to bookstores and researching about the business. Was I prepared for someone to take my baby, only to stretch, delete, and poke it half to death? The only way to find out was more and more research to find exactly what I wanted.
During that same year, I decided to move to Alaska. Not long after I arrived, I remember standing in my new bedroom, three thousand miles from everything I had ever known. The New Frontier was where I would make my dreams come true!
One night after I had arrived home from work, I flipped my alarm clock radio on while putting my music and instruments away. An announcement for the Alaska Writers Guild came over the radio, and I rushed to a computer. Much to my surprise, they were connected to Publication Consultants! Could this company finally give me my fair shot? I summoned up the courage and sent another query letter to Evan Swensen, publisher. I read about the company online over and over while waiting for a response. I loved what they stood for. But, could they be too good to be true? I held my breath.
I sat in front of the computer, heart beating, reading the words over and over. Publication Consultants liked my manuscript, found the story interesting, and were pleased to publish my novel! Had I read that correctly? I read it seven more times to make sure.
I had been right at eleven years old. Writing wasn't hard for me. Now I had to learn how to master the hard part about the publishing world—Edits! I took off my writing cap, and to examine the skeleton of my work, I needed a few things:
A sturdy "editing hard hat."
Hundreds of hours
A bit of money
Several months of hard work
November 2010 came and the final pieces were being put together. I had to change like a chameleon again and put on my marketing helmet. I had to step away from the pages that had been written so passionately and look at this manuscript as if it was someone else's. Criticism is something hard for me to accept, but I had prepared for this step. What would make this story marketable to others? Why would they want to read it? What would make people pick this book up out of the thousands upon thousands published just this year?! Titles were perfected, covers creatively designed, and the back cover cleverly crafted to spark interest. I found that I loved letting go of some of my control over the manuscript and took my publisher's advice. The story was great beforehand, but after I held the final product in my hand, I couldn't help but realize it had become spectacular.
One final time I had to change hats and learn to be a top saleswoman. This step has proven to be very hard for several authors. All authors have to find out what works best for them, but the keyword is work. My new novel could be made of gold, but it wouldn't sell without my help. So I went back to the books and online articles to find what it took to get my books off the shelf and into people's hands and homes.
My story seems so fairytale-like and straightforward for aspiring authors! It has been a dream come true, yes, but there are not enough pages to fully explain the hours of patience, hard work, and the stubborn willpower never to give up.
To those reading this and wishing their dream rested on white pages—keep the determination to shift through all the "nos" to find a "yes."