Bread Box for the Broken
By Rebecca J Wetzler
Purposeful Overcomer Sharing the Fruit of Faith
September 5th through September 11th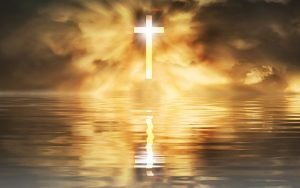 September 5   I THESSALONIANS 4:13–18
Brothers, we do not want you to be ignorant about those who fall asleep, or to grieve like the rest of men, who have no hope. We believe that Jesus died and rose again and so we believe that God will bring with Jesus those who have fallen asleep in him. According to the Lord's own word, we tell you that we who are still alive, who are left till the coming of the Lord, will certainly not precede those who have fallen asleep. For the Lord himself will come down from heaven, with a loud command, with the voice of the archangel and with the trumpet call of God, and the dead in Christ will rise first. After that, we who are still alive and are left will be caught up together with them in the clouds to meet the Lord in the air. And so we will be with the Lord forever. Therefore encourage each other with these words.
Dear Lord,
Thank You so much for these encouraging words! I do not grieve as those who have no hope, rather because I believe Jesus died and rose again, the believer's physical death is really just falling asleep in the Lord. When You return for us, Your command will wake those asleep in You, and with those who are living, all believers will be caught up in the air to meet You in victory over death. And so shall believers ever be in Your presence from that day through eternity. So losing a saved loved one from this earthly realm is painful and feels tragic, but the truth is the separation is temporary. I will see them again in the heavenly realm, and worship with them at Your feet for Your mercy and grace. May those without hope turn to You, believe, and also be with us on that day!
September 6   II THESSALONIANS 2:15–17, 3:3–5
So then, brothers, stand firm and hold to the teachings we passed on to you, whether by word of mouth or by letter. May our Lord Jesus Christ himself and God our Father, who loved us and by his grace gave us eternal encouragement and good hope, encourage your hearts and strengthen you in every good deed and word … But the Lord is faithful, and he will strengthen and protect you from the evil one. We have confidence in the Lord that you are doing and will continue to do the things we command. May the Lord direct your hearts into God's love and Christ's perseverance.
Dear Lord,
Thank you your encouragement is eternal. Most days Yours is the only encouragement I receive. My hope is low, my heart is aching; yet I need only pull out my faithful Bible, and Your Living Word speaks strength into me, directing my heart back to the good hope, renewing my resolve to persevere through Jesus Christ. The Scriptures remind me of Your surpassing peace, Your protection from the evil one, Your constant presence, and most important of all, Your blessed assurance of salvation through Christ. I will stand firm in Your spiritual teachings, practicing them in my words and deeds.
September 7   I TIMOTHY 1;15–19
Here is a trustworthy saying that deserves full acceptance: Christ Jesus came into the world to save sinners—of whom I am the worst. But for that very reason I was shown mercy so that in me, the worst of sinners, Christ Jesus might display his unlimited patience as an example for those who would believe on him and receive eternal life. Now to the King eternal, immortal, invisible, the only God, be honor and glory for ever and ever. Amen. Timothy, my son, I give you this instruction in keeping with the prophecies once made about you, so that by following them you may fight the good fight, holding on to faith and a good conscience. Some have rejected these and so have shipwrecked their faith.
Dear Lord,
When You were on earth, thank you for choosing the people you did to spread the gospel. They were not the best of the best, the top 5% of High Achievers, the highly revered social elite. No, You picked ordinary fishermen like Simon, and awful people like Paul. Paul was one of the worst sinners of that time—he persecuted and killed Christians before his conversion. After his conversion he uttered the profound truth: Christ came to save sinners. The mercy shown to Paul is proof of Your unlimited love, that You want all Your creation to believe You are the One and Only God; that You sent Your only Son to die for our sins and rise again for our eternal salvation; it is left for us to only believe. I pray You help me fight the good fight to live for You in this world, holding on so my faith will not be shipwrecked by man nor minions of evil.
September 8   I TIMOTHY 2:1–6
I urge, then, first of all, that requests, prayers, intercessions and thanksgiving be made for everyone—for kings and all those in authority, that we may live peaceful and quiet lives in all godliness and holiness. This is good, and pleases God our Savior, who wants all men to be saved and to come to a knowledge of the truth. For there is one God and one mediator between God and men, the man Christ Jesus, who gave himself as a ransom for all men— the testimony given in its proper time.
Dear Lord,
I get so focused on immediate issues in my small sphere of the world, I hardly notice local, state, national or world concerns on a regular basis. Yet the outcome of those concerns may quickly affect my busy little life. I pray You watch over and guide those in authority, whether or not they have faith in You. You are sovereign and will use whoever or whatever You want for Your purpose. In some small way, let my life lived for You be a positive, stabilizing force in this world, as multitudes of other believers do the same in their sphere of influence. May we continue to declare the Truth through our prayers, intercession for others, and thanksgiving for the ransom paid for our souls through Christ Jesus. May my professions of faith be sincere and given at the proper time so it will be received by the hearts You have prepared to hear.
September 9   I TIMOTHY 6:6–10
But godliness with contentment is great gain. For we brought nothing into the world, and we can take nothing out of it. But if we have food and clothing, we will be content with that. People who want to get rich fall into temptation and a trap and into many foolish and harmful desires that plunge men into ruin and destruction. For the love of money is a root of all kinds of evil. Some people, eager for money, have wandered from the faith and pierced themselves with many griefs.
Dear Lord,
I do not want worldly riches, rather help me be content with the basics for living. Please provide me and my family with shelter, food, clothing, an education and transportation to be about Your business. Help me understand Your definition of what basics for living are, as mine may differ from yours. Please keep me from foolish and harmful desires which money may inspire. God forbid I ever wander from the faith; though I have wandered from Your Will at times, and as a result have been pierced with many griefs. May I always be thankful for Your provision and use it wisely to give back to You.
September 10   II TIMOTHY 1:7–11
For God did not give us a spirit of timidity, but a spirit of power, of love and of self-discipline. So do not be ashamed to testify about our Lord, or ashamed of me his prisoner. But join with me in suffering for the gospel, by the power of God, who has saved us and called us to a holy life— not because of anything we have done but because of his own purpose and grace. This grace was given us in Christ Jesus before the beginning of time, but it has now been revealed through the appearing of our Savior, Christ Jesus, who has destroyed death and has brought life and immortality to light through the gospel. And of this gospel I was appointed a herald and an apostle and a teacher.
Dear Lord,
It is my nature to be timid and shy. I have had to use self-discipline to force myself to be more outgoing. Despite my lack of self-confidence, empower me to visibly live a holy life. May others see my example, no, let them see through me to Your Example that lives in me through faith in Jesus Christ. Help others understand the Gospel, the Good News Jesus came to save mankind, destroy death, and replace it with eternal life; it is our choice to accept Your grace, or spend eternity without God. From my heart, know that I take seriously Your appointment of every believer to publicly acknowledge Your purpose is active in our lives. I am not ashamed of the Gospel of Jesus Christ.
September 11   HEBREWS 4:9–13
There remains, then, a Sabbath-rest for the people of God; for anyone who enters God's rest also rests from his own work, just as God did from his. Let us, therefore, make every effort to enter that rest, so that no one will fall by following their example of disobedience. For the word of God is living and active. Sharper than any double-edged sword, it penetrates even to dividing soul and spirit, joints and marrow; it judges the thoughts and attitudes of the heart. Nothing in all creation is hidden from God's sight. Everything is uncovered and laid bare before the eyes of him to whom we must give account.
Dear Lord,
I must learn to rest from the busy-ness of life so I may be quiet enough for You to teach me how to enter Your rest. Help me get there, because I know it will protect me from falling away from fellowship with You. I need to spend more time in Your Word to keep it living in me; it will adjust my heart's thoughts and attitudes. My soul is laid bare before You; I know I will have to give an account for all things I leave unresolved, unforgiven between You and me. I pray You keep me obedient and renewed through resting on Your promises.