One Last Cast
From Alaska Outdoors Radio Magazine
By Evan Swensen
Chapter Twenty-Two
Charlie's Deer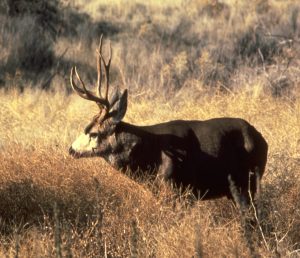 Montague Island is the land barrier between the vast Pacific Ocean and Prince William Sound. Had we voyaged with Captain James Cook, we'd have taken our leave of Alaska from Montague Island when we started our trip to winter in Hawaii. However, unlike Captain Cook and the Discovery, modern Hawaii winter travelers may also see Montague Island from their jet plane window as they head out across the Pacific for Honolulu.
However, Charlie, a 1947 Stinson model 108-3, would never be considered for transportation to Hawaii. Even with her 14-gallon auxiliary gas tank full to overflowing, she'd barely make it past the 200-mile U.S.-controlled sea space before her motor would cough, sputter, choke, and die. She'd then silently glide to a small splash among the waves and sink.
But, for transportation from Anchorage to Montague Island for three deer hunters, 857 Charlie was ideally suited. She could go there and back and never draw on the 14-gallon auxiliary gas tank unless bad weather required her to detour to Seward, Valdez, or Cordova.
Charlie's pilot learned that there was a small airstrip on Montague Island at McCloud Harbor. The folks who lived there had a small cabin they would rent by the day to deer and bear hunters. They even had a small meat house to stash meat, should the hunters be successful.
And so it was that Lynn Dean and Don Brown, in company with Charlie's pilot, found themselves flying 857 Charlie toward Montague Island on a clear, calm November day. The makeshift windsock at McCloud Harbor was hanging limp when Charlie arrived. So Charlie's pilot decided to come in over the sea, land on the end of the strip closest to the water, and taxi to the other end where signs of habitation appeared.
Circling once to check for other traffic, Charlie's pilot entered the downwind leg for landing. Upon turning base, Charlie's pilot observed two people coming out of a house at the far end of the strip. The noise of Charlie's engine had alerted the lone residents of Montague Island to their visitors.
The first five minutes of conversation with Montague Island's only locals produced a favorable hunting report, reservations for as long as the three hunters wanted to stay, and a dinner invitation. Dinner conversation mainly consisted of where to hunt and a warning about Montague's big brown bears.
Almost at first light, the three hunters left their snug, warm cabin and ventured out in Montague's chilly, but comfortable, clear morning. Following directions given by the two locals, the three hunters hiked and climbed to a rock outcropping overlooking a series of open meadows. During the hike, Lynn decided to take up temporary residency on a log where he could observe the meadow from a different angle than from the rocks above.
Don and Charlie's pilot took their position on the rocks just as the first rays of sun broke over the distant peak and warmth and light began filling the little meadow-filled valley. Don and Charlie's pilot's eyes got heavy with the sun's heat and almost succumbed to the warming rays. However, heavy eyelids got quickly lighter when several deer suddenly appeared in the closest meadow. Both bucks and does were immediately present.
Montague had a five-deer limit, but the hunters had decided that due to Charlie's weight requirements, they'd take only two deer each. So don selected two bucks to the right, and Charlie's pilot picked out two bucks to the left. At an agreed-upon count, each hunter fired two shots, and two bucks began their journey to the hunter's dinner table.
The confused deer remained in the open meadow. Then, in just a moment, two shots again broke the morning silence as Lynn took his two-deer limit.
The three hunters soon gathered in the meadow to begin the field-dressing process. Lynn was laughing when he came out of the trees. It seems that the morning warmth had overcome his hunter's vigilance, and he had dozed off on the warming log. When Don and Charlie's pilot fired their rifles, the noise of the muzzle blast had so startled Lynn that he fell backward off the log. It took him a few moments to gather his wits, find the deer, and take his game.
After cleaning the animals, the three hunters carried one deer apiece on their shoulders and dragged the second one behind them. It was after dark when they returned to camp and hung their meat in the local's meat house. They were tired and thankful that none of the notorious big browns had come to dinner out on the trail.
Next morning they skinned the deer and put them in quarters to fit in Charlie's cockpit. Then, after lunch with the locals, the three hunters gathered themselves and their meat and gear into Charlie, and they pointed her nose back to Anchorage. Weather and wind stayed favorable, and Charlie was soon parked at her designated spot at Anchorage International Airport.
Twenty years or more have passed since the three hunter friends hunted Montague. Charlie has gone to airplane heaven. All the venison has been consumed, Don and the locals at McCloud harbor have left the earth, and Lynn now resides Outside, but returns occasionally.
One thing remains besides the memory of the hunt. Charlie's pilot had his buckskin tanned into a soft leather. His wife fashioned a leather vest that he occasionally wears as the situation arises. Whenever Charlie's pilot wears his Montague Island buckskin vest, he remembers when he and two friends flew Charlie to Montague Island for deer.