One Last Cast
From Alaska Outdoors Radio Magazine
By Evan Swensen
Chapter Three
Deerhair Mouse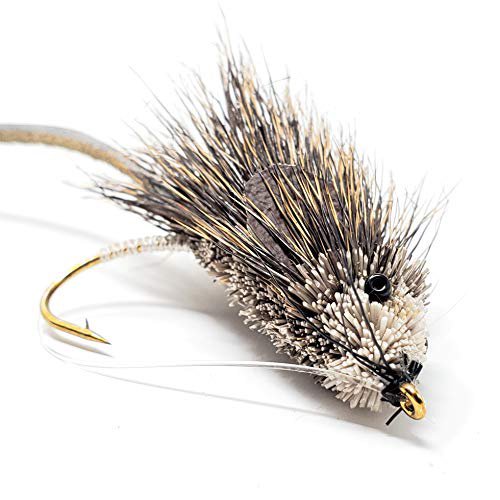 We were filming a segment for Alaska Outdoors television show when I accomplished three, I've-never-done-before things on one pike in a Southwest Alaska lake. It was a windy day. Too windy to fly-fish, too windy to film. I was prepared for big pike with a 9-foot, number nine rod, and a piece of 50-pound monofilament line as leader. Pike were present, but it was far too gusty to throw a fly, and since that was what we were there to film—we couldn't.
The filming crew and I tried to weather the storm by sitting out of the wind behind a high bank. I had never caught a pike, and obviously had not taken one on a fly. However, in my fly box was a huge deerhair mouse fly I had carried for several years without even a hint of a strike. The longer we stayed behind the bank, the stronger the gusts were and the more restless I became.
More to be doing something than fishing, I set up my rod and put on the old deerhair mouse. As I approached the lake's edge, I raised the rod as far as I could reach and let the fly act like a kite. The wind caught the bulky body of the mouse and carried it and my fly line for 30 yards. I played the line out as far as it would go until it touched the water. The moment it settled on the surface, it was violently attacked by a mouse-hating pike.
I yelled, "Fish on!" as loud as I could, but the wind grabbed my words and sent them sailing unheard across the lake. Battling the old Ice Age survivor to the lake's edge, I continued yelling for an audience, but the filming crew could not hear me above the wind.
My first pike lay in shallow water among some reeds. I bent over to remove the hook and remembered their sharp teeth. Not wanting to end up as a casualty, I caught the leader 3 feet from the fish's mouth and began to pull the fish to shore. As the line's tension increased, the pike flipped its ugly head from side to side. The motion caused the fish's teeth to act like a buzz saw on my leader. It was severed, and the pike escaped with my deerhair mouse.
I tried to explain to the filming crew what I'd done, but they wouldn't believe me. They just made jokes, and I couldn't convince them that I had caught a pike on my big deerhair moose. I crossed my heart and hoped to die and received only a, "Y, sure."
I'm telling you I got my deerhair mouse fly out in a 50-miles-an-hour gale, perhaps the world's singular northern-kite fishing event. A hungry pike took it, and I brought him to shore, where he escaped with my fly.
Honest!