One Last Cast
From Alaska Outdoors Radio Magazine
By Evan Swensen
Chapter Thirty Two
Charlie's Ghost Moose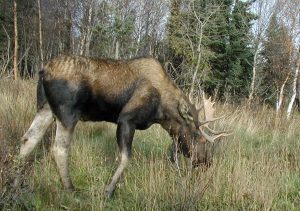 "Ted," said Charlie's pilot, as Charlie pointed her faded red nose north, "I know a place where an old, woods-wise moose hangs out. Let's motor over there and take a look." Ted and Charlie's pilot were on their way to rendezvous with one of Ted's friends for a fly-out caribou hunt out of Susitna Lodge along the Denali Highway.
Circling the slough off the Susitna River, as Charlie had done many times with Charlie's Pilot's children aboard, brought the small open spot next to the slough into view. There, standing in the open, was the anticipated moose. He was feeding on willows and watching the 1948 Stinson circle at a safe distance. The Stinson presented no immediate threat, and the old monarch kept feeding without looking up again.
"Too bad we don't have more time, and we'd give him a go," said Charlie's pilot.
"Let's take the time," Ted exclaimed, his heart rate increasing as he watched the massive moose under Charlie's right wingtip. "My caribou hunt can wait. This moose would fill my whole freezer if we could get him."
"Ted," Charlie's pilot explained, I think this is a ghost moose. I've been down on him often, but he always gives me the slip. By the time I get there, he's gone. By the time I get back to the plane, he's back feeding. And probably laughing at me. I don't know whether it's worth delaying your caribou hunt or not."
"I'd like to try for your ghost moose. The caribou can wait," Ted said with determination and excitement.
"Okay, said Charlie's pilot, but we'll have to take it slow and quiet."
Hunting the same-day airborne was legal in those days, back when Alaska was for Alaskans. Then, gas was cheap, old Stinsons like Charlie were affordable, and moose were more plentiful, back when they were managed for the use of man, and before New York and Washington DC, interests forced weak-kneed Alaska governors to manage moose for wolves.
Upon landing, Ted and Charlie's pilot quietly closed Charlie's doors against the swarm of bugs brought out by the smell of a warm meal by the presence of Ted and Charlie's pilot. Amply applying a dose of Off, the two hunters slipped into the woods and quietly made their way for the slough and the ghost moose. Having been to the slough many times, Charlie's pilot knew the way, and they soon arrived at the slough, just opposite where the old moose was feeding earlier. Yes, feeding earlier, now, as with every time in the past, the ghost moose was gone.
"I don't understand it," Ted exclaimed. "Where'd he go? I don't understand it. He's got to be here somewhere."
"I understand it," said Charlie's pilot, he's a ghost."
"There are no ghost moose," Ted said, "just smart ones."
"I know," Charlie's pilot agreed. "I wonder where he goes. By the time we get back to Charlie, the ghost moose will be out here feeding again."
Ted and Charlie's pilot leaned against a couple of small birches and thought about the disappearing moose. Maybe 15 minutes went by without either saying anything or making a sound; both hunters were lost in their thoughts about the ghost moose. Charlie's pilot was just about to say, "Let's get back to the plane and on to your caribou hunt," when the ghost moose stood up. Earlier, upon hearing, smelling, or sensing Ted and Charlie's Pilot's approach, the old, wilderness-wise moose had slipped a few feet into a patch of alders and lain down.
It's not known if he ever saw the hunters because just as his antlers cleared the alder tops, Ted raised his rifle. His sights and the moose's head topped the alder patch simultaneously, and both Ted's rifle and the old moose satisfied their existence with the pulling of the trigger.
It took a few minutes for Ted and Charlie's pilot to walk around the swamp and confirm that the moose was dead. Working as fast as they could, the two happy hunters still took a couple of hours to field-dress the moose and return to Charlie. Using a hunter's block and tackle tied to a spruce tree, they raised much of the moose off the ground to properly cool it down.
"Well," smiles Ted, "I guess your ghost moose is a real ghost now, probably out there somewhere haunting the happy hunting grounds. So let's go caribou hunting. We'll come back tomorrow and get the moose meat."