One Last Cast
From Alaska Outdoors Radio Magazine
By Evan Swensen
Chapter Thirty-Five
Charlie's Last Flight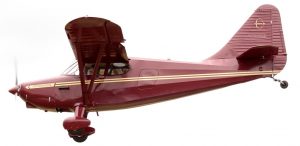 Eight-five-seven Charlie was a 1948 Stinson model 108-3. She was born red. In the last year of her life, she changed her dress, and she became metallic blue, with a white stripe running the entire length of her somewhat pudgy fuselage. Before becoming blue, she looked her age—one year older than her retired cousin sleeping at the Anchorage Transportation Museum. Before Charlie changed her color, she looked like her cousin's twin. Stinson loved red in the late 40s, and most I've seen flew out of the factory with a new coat of red paint. Over time, parked at airports without shade and flying into the sun, Charlie's red faded into an oxidized maroon. But then, one day, Charlie's faded, oxidized red color was covered with a blue-colored coat borrowed from General Motors, which they called Cadillac Blue—an appropriate name for the Cadillac of the 1940s' light airplanes.
Winter descended on Alaska's fall hunting season, and 857 Charlie started wearing 7-foot long skis instead of the oversized tires she usually sported. The skis were made of wood, and the natural, weathered, sawed-lumber look was not complementary to Charlie's new, bright color. The skis fit with the oxidized red, but the new blue with white trim made Charlie look like a lady aristocrat in an evening gown wearing old hiking boots.
As she had done many times, Charlie lifted off Anchorage International Airport and pointed her nose toward the Talkeetna Mountains. Her two passengers, two novice hunters from the South-48, and her Alaskan pilot were wrapped in warm coats, knowing the limited amount of heat produced by Charlie's heater, and the cold weather they could expect once they left Charlie and went chasing moose around the mountains.
Charlie's first landing of the day was atop a snow-covered ridge. Moose wandered the little valley below the ridge, and Charlie's passengers were there to take a moose. It was legal to fly and hunt on the same day airborne in those days, back when Alaska was for Alaskans. So the wannabe hunters left Charlie with rifles in hand and headed for their quarry. Charlie's pilot pointed her nose into the wind and pushed her throttle in all the way. Charlie responded with vigor. Now free of two-thirds of her ground-hugging weight, she was airborne within seconds of receiving the go command.
Charlie circled low and settled into the snow, lying lightly on a small frozen lake near the hunter's moose. There were bumps on landing and takeoff on the ridge and repeated on landing on the lake. Then, somewhere on the ridge top or on the lake, the spring holding Charlie's tailwheel broke, and the wheel flopped loosely, dragging along in the snow.
Using a piece of iron wire, the handle of a 3/8-inch open-end wrench, and a wrapping of duct tape, Charlie's pilot put the spring pack into place to accommodate one more takeoff before permanent repairs could be handled. Usually, Charlie's pilot would takeoff empty from such surroundings before allowing people inside the cabin, but with the crippled tail wheel, the unsuccessful moose hunters with their coats, boots, and guns were stuffed in, and Charlie's engine roared in response to gas vaporing in the carburetor when pilot pushed the throttle.
Most times, Charlie lunged when the propeller's speed wound to 3,400 RPM, but this time she lounged in the snow just a bit. By the time she was airborne, too much of the small lake was behind her, not enough distance separated her from the ground, and tall trees seemed to get taller and grow ski-grabbing branches. First one ski, then another, and Charlie's pilot realized this was Charlie's last flight, and the best thing to do was cut the power, control the crash, sacrifice Charlie's wings to trees, and protect the people-carrying fuselage.
Charlie gave up hard, but in losing her wings, she saved her passengers, and she died with dignity. Had she been able to hear, she would have heard her pilot explain why he had guided her to such a twisted end —I just ran out of airspeed, altitude, and ideas—all at once.