One Last Cast
From Alaska Outdoors Radio Magazine
By Evan Swensen
Chapter Thirty-Six
Hiking Alaska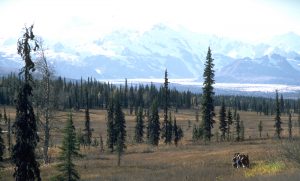 Which trail is the best trail in Alaska to hike? The one you're hiking on, of course! Pick out a trail and gear up!
Hiking Alaska is like hiking an area the size of thirteen states. It's as big as Texas times two. Alaska has the largest National Park on the continent, the highest mountains, the longest rivers, and the largest and smallest National Forest. Alaska is a state with cities and towns nestled in prime hiking land and pristine wilderness.
The Greatland beckons hikers to the tortuous Chilkoot Trail, winter wonderland White Mountain playground, sand dune deserts as far north as Nome, and bubbling hot springs above the Arctic Circle. It summons to the summit of Mt. McKinley and the quarter-mile pack to photograph a mountain sheep, to deep echoing sounds along the islands of the Panhandle, the Greatland beckons people who love to get into the backcountry—hikers!
Alaska hiking trails are accessed by road, boat, train, or plane. Most of them sight glaciers, abundant wildlife, and surprising plant life. Many are not trails at all. They are walks above timberline, out of the brush, and off the beaten path.
Alaska is a place to be alone or meet others on the trail. Alaska—where you can flag down a train and go to another hiking trail or fishing spot. In Alaska, a hiker can spend a day or a week in unspoiled wilderness and be but a few minutes away from the highway or town.
But don't expect to see it all. If you explored a thousand square miles of the Greatland a day, you couldn't see it all in your lifetime.