One Last Cast
From Alaska Outdoors Radio Magazine
By Evan Swensen
Chapter Thirty-seven
Anchorage Is Only 30 Minutes From Alaska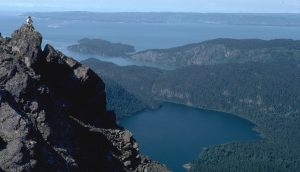 It has been said that Anchorage is only 30 minutes from Alaska. Alaska is not in the city or along the Highway. Alaska, the real Alaska, is only 30 minutes away from these. Alaska is wilderness. It is hiking the wild, fishing in unpolluted water, sighting a bear, tracking a moose, tricking a fish, or as Robert Service put it, "standing in some mighty mouthed hallow that's plumb full of hush to the brim, and watching the big husky sun wallow in crimson and gold and grow dim." Anchorage is only 30 minutes away.
Visitors to Anchorage and residents who do not frequent the wilderness reminds us of the man who went to a buffet, ate his fill at the hors d'oeuvre table, and told everyone how great the food was. Alaska is not just hors d'oeuvres. It's not even soup and sandwiches. Alaska is a banquet. It's a seven-course meal with dinner music, mood lighting, and a Carnegie Hall all-star cast performance, and Anchorage is only 30 minutes away.
Thirty minutes from Anchorage, hikers can see, feel, touch, taste, hear, and smell Alaska. They can get away from the city and onto an uncrowded trail within 30 minutes. They can leave behind the concrete and the artificial and be in wilderness within a half-hour of their job or home.
Anchorage, bordering the Chugach State Park and Chugach National Forest, is a city of trails. Take any road off the Glenn or Seward Highway, and it will lead to a trailhead. It would take a hiker at least one summer of constant hiking to trek all of the trails from Portage to Knik. New trails are constantly being developed, and old ones upgraded and maintained. Yes, Anchorage is the city of trails. Wilderness Trails, and it's only 30 minutes from Alaska.