One Last Cast
From Alaska Outdoors Radio Magazine
By Evan Swensen
Chapter Forty-Three
The Final Four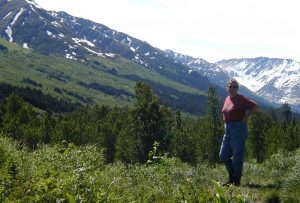 The last chapter in our Hiker's Guide to Alaska is titled The Final Four. The Final Four are not for everyone; they are for the few and the brave. They are for the few willing to pay the price, brave hikers of courage accepting the challenge to climb Mt. McKinley, North America's tallest peak, trudge the Golden Stairs of Chilkoot Pass, winter-walk the Iditarod's 1,000-mile wilderness, or trek the Dalton Highway's edge from the Yukon to the Arctic. The Final Four require rigorous training, dedicated practice, special equipment, and support services.
Other hikes in the Hiking Guide to Alaska can be accomplished by the average person in an afternoon, a day, on a weekend, or the time frame of a vacation. However, the Final Four require planning, preparation, training, conditioning, and some expense. Not many of us are brave enough to challenge the Final Four, but after reading about them, I'll wager you'll think about it; you may even write for more information, and a few may give it a try.
The Final Four are for everyone who dreamt about looking down on the world from 20,300 feet, whose secret desire is to cross the Yukon River and find the Arctic Circle, or whose fantasy is following the trail of 98.
The Final Four are for the brave few—perhaps you.