One Last Cast
From Alaska Outdoors Radio Magazine
By Evan Swensen
Chapter Forty-Eight
Vibes
By Carrie Smith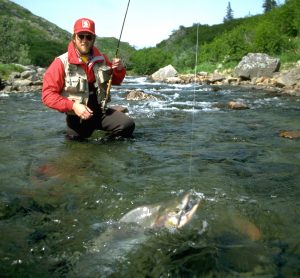 I've heard that one must have vibes to catch fish in Alaska. This is a special signal the angler sends to the fish through the rod, and the fish is mystically drawn to the hook. Some call it vibes, some say it's a skill, and others call it plain luck. Whatever you call it, I know I don't have it.
I've been on fishing trips where every person around me was reeling in fish, and I'm sitting there wondering if the guide missed putting a hook on the end of my line. Did he forget about me? Is this some weird initiation joke all guides play on the rookie? Maybe he's a chauvinist and can't take the chance I might outfish him?
I've fished the Kenai, Kachemak Bay, English Bay, Lower Cook Inlet, Upper Russian, Susitna, Lake Louise, Talkeetna, Talachulitna, on fly-outs aplenty, and various points in between. I'm not saying I haven't EVER caught a fish. I have. But comparing the number of times I've been out and the number of those slimy creatures I've got into the boat or the shore is, well … embarrassing!
There was the 35-pound king from the Kenai, the Homer halibut the guide lost when the gaff slipped (a likely story), and the burbot caught in Lake Louise last year. Did I mention you can't keep burbot caught in Lake Louise? I did catch an English Bay Dolly when I was eight years old. My dad hadn't got to the reeling-in lesson yet, so when this little thing hooked on, I threw the rod over my shoulder and ran like a maniac up the beach. The poor fish didn't stand a chance. It bounced on the top of the water like a well-thrown skipping rock, and I'm sure it died of shock before my dad unhooked it. I have the picture to show my kids. "See, mom has caught a fish." My 7-year-old rolls her eyes and walks away.
My husband says you must keep at it, and I give up too soon. But over the years, I've come to accept the lack of vibes in my fishing life, and I kick back in the boat and work on my tan. There are other things about fishing trips I've learned to enjoy.
The trip to Lake Louise is my favorite: Sutton's quaintness, the Matanuska River's slate-gray beauty, and the glacier's cobalt blue. The kids are asleep about the time we drive thru the valleys before Eureka, and I tell my husband, AGAIN, how great it would be if we could move out there with the kids and make a living in those green, wild valleys.
The best part about the trip and all the drives I take with the family is watching them play in Alaska outdoors. Their blue eyes shine brighter, and their cheeks are a couple of shades rosier. My husband is a little more handsome (is that possible?) while driving the boat. The pictures we take seem more vivid, and we sleep a little better at night. It must be all that fresh air. I might miss these things if I was preoccupied with catching fish.
As Robert Service wrote, "It isn't the gold that I'm wanting so much as just finding the gold." There are thousands of people who can only dream of living in the Greatland. Some people spend thousands of dollars each year to get a taste of our everyday lives. What a shame if we only appreciated it when a fish was dangling on the end of our fishing line. It sounds like a sour-grape-non-vibes rationalization, but if all I wanted was fish, I could go to the seafood counter at Carrs. Besides, I never heard anyone say going to the supermarket was the best part about getting his fish.
by Carrie Smith