One Last Cast
From Alaska Outdoors Radio Magazine
By Evan Swensen
Chapter Fifty
Two Records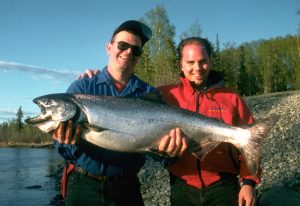 Two records were at stake: one to break, one to preserve.
Andy thought Lars' record of never being skunked on a fishing trip showed he hadn't ever fished the shoulder season but only fished at the height of the runs. Whatever the case, Lars Swensen would do his best to protect the guide's integrity and preserve his self-proclaimed record of never coming home without catching a fish.
Andy Couch, FishTale River Guides guide, pushed the shoulder season to the limit. Last year he'd predicted an early run and successfully guided his clients to the first king of the season on the Little Susitna River on May 17. This year he hoped to duplicate the event one day earlier, May 16.
And so the stage was set. The Little Susitna River played host to these two record breakers' informal but important world records. Fish gods won't let anglers catch important fish early in the day. After 10 hours of hard but unrewarded fishing, Andy announced, "Only two more holes."
Two more holes and defeat. But the fish gods were kind, and a sea-bright, fresh king salmon took the bait. A ten-minute intense battle ended with the season's first catch being held high for photographs between two happy, lucky anglers.
Andy Couch, FishTale River Guide, had extended his season one more day. So the envelope was pushed to May 16 for the first Little Susitna River king.
Lars Swensen again went home with fish, never yet skunked on a fishing trip.
Two records—one broken, one preserved. Two happy anglers.