One Last Cast
From Alaska Outdoors Radio Magazine
By Evan Swensen
Chapter Fifty-Two
Top Ten Lures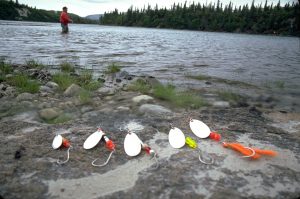 "Manufactures make their lures for fisherman, not fish," the clerk commented as my fishing buddy, loaded with a zillion kinds and colors, headed for the checkout counter. I had just met Rick, a first-time Alaska angler. He had saved his money for several years and was beginning his once-in-a-lifetime trip to Alaska. We came together through a group of mutual friends, and for the next week, we would be floating and fishing a remote Alaska river. Not wanting to be in the bush without the proper lure, Rick stopped by the local tackle store and loaded up on terminal tackle. Had he asked me what he should take to the river instead of asking the clerk, his tackle box would not have contained nearly the variety of lures, sizes, or colors, nor would he have hauled so many back to California when his trip was over.
Early in my Alaska fishing career, I fished strictly with Daredevils. My tackle box was loaded with several different weights and colors. I thought I would do better if I used the lure I was most familiar with and just changed the color or size as water clarity, depth, and current velocity demanded. I did pretty well and caught at least my share.
Then my fishing habits changed, and I began fishing with guides and discovered a new world of lures. Almost every guide had his favorite lure, which he considered his secret weapon. When the fishing slowed, he'd dig in his bag of tricks and produce a strange new lure, claiming, "This one will break the curse. It always does. Just wait and see."
They'll usually bring out one of the top ten lures for Alaska. I've learned that guides consider the top ten lures in order of preference: Pixies, Daredevils, Spin-N-Glos, salmon eggs, Tee Spoons, Mepps spinners, Tadpollys, Rooster Tails, Vibrax, and Krocodiles. I'm convinced I need them all, and my tackle box contains some of all ten. So I listen to the guides and tackle store experts and accept their advice, hook, line, and sinker.