One Last Cast
From Alaska Outdoors Radio Magazine
By Evan Swensen
Chapter Fifty-Three
Volcano Bay Silvers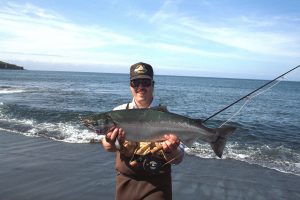 The Aleutian Islands are hauntingly beautiful and uncommonly picturesque. Yet, the Aleutians are a different world. A thick, emerald-green blanket covers the surrounding mountains and hills. Wildflowers are abundant. Visitors are entertained by bald eagles soaring overhead and sea otters playing in the bay.
Although all of the above is true, the Aleutians are also a different world for worldly-wise anglers and those who seek the unusual, singular fishing experience. Alaska's fishing opportunities are unmatched anywhere, but occasionally a place or experience comes into a person's life that burns a memory deep in the brain. Volcano Bay is one of those places—at least for the present. Volcano Bay, untouched by the menacing nets of commercial fishing and even unblemished by subsistence practices, is a small angling area where you can go today and fish where legions upon legions of fish rush to their procreative destiny.
I experienced only the silvers of Volcano Bay. The day I spent throwing a fly over the waves of a rolling surf to running salmon is high on my list of memory grabbers. Like a volcano eruption, sea-fresh Volcano Bay silver salmon distinguish themselves by striking with enthusiasm and running with their legendary and celebrated full strength. Like many Aleutian salmon streams, Volcano Bay is untouched by commercial fishing. Fishing Volcano Bay has just got to be silver salmon's grand slam.
My time at Volcano Bay began with a short floatplane flight from Unalaska in a turbine deHavilland Beaver. Volcano Bay's Hawaii-like appearance, complete with lofty, prominent, volcanic peak backdrop and striking white sand beach, stuns the senses. If it were not for glaciers hanging from distant ridges, I would have thought I was a visitor to the South Pacific. The day I spent at Volcano bay, the weather was like it was imported from Waikiki.
My companions were Greg Hawthorne, owner of Volcano Bay Lodge, and fishing guide and charter captain John Lucking. My purpose was to film these two expert anglers fly-fishing the surf for silvers for a future episode of the Alaska Outdoors television show. It was almost like watching ballet as these two followed the receding waves, cast as far as they could into the ocean, retreated up the beach before running waves while stripping line from their reels, and then retrieved their line in the traditional manner of fly-fishing. More often than not, the acrobatic exercise species are formidable fighters. Volcano Bay silvers are some of the toughest. The direction of their run was unpredictable. Some charged directly toward the angler while using the rushing surf to jet-propel them free of the hook. Others ran parallel to the beach, catching the waves like experienced surfboarders, using the rolling water to leverage their already powerful plunge for escape. Some caught a receding wave and found their freedom by pulling away with the help of 3- and 4-foot waves. Others, not so lucky, succumbed to John's and Greg's experience.
John and Greg didn't land their catch; they beached it. I watched as they got the tired salmon taking the easy way toward the beach deep within a wave. Once the wave expended its energy on the white sand and returned to the sea, the anglers would hold tight while the receding water left the fish high and dry. John and Greg would then rush and try to bring the fish to high ground before a returning wave captured their catch. Most of the time, they were successful. But, occasionally, they got wet, and the silver either escaped or began another fight.
When the picture-taking was finished late in the afternoon, Greg lent me his rod, and I tried to duplicate his ballet. My form wouldn't match his, but the result equaled him when a silver struck and headed for Kodiak. Even after watching Greg and John battle the Volcano Bay silvers, I wasn't prepared for the strength of the charge for freedom and was quickly left with an empty hook. Several times silvers came out ahead before I was able to hold one while the waves returned to the sea and left my prize lying on the sand.
My day at Volcano Bay was mostly watching and filming, a little fishing, but above all, probably the most memorable one-day fishing outing in my life.