One Last Cast
From Alaska Outdoors Radio Magazine
By Evan Swensen
Chapter Fifty-Five
The Fishing Hole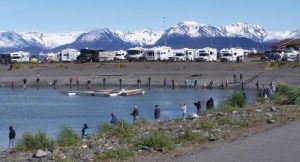 On the Homer Spit, I witnessed a group of inexperienced and uninformed anglers fishing in the Fishing Hole. They threw the correct lure and used the proper technique for several discouraging hours. They knew the kings were there. They could see them jump, and occasionally someone would snag one and have it on for a moment. After a while, in frustration, they would leave the water—depressed with their ability to duplicate what they knew others had done. Then the tide changed, fish moved in, savvy anglers arrived, and the fishing matched Alaska's reputation for an hour. The tide peaked, the hole cooled, and the unfortunate, uninformed, upon hearing of great fishing, returned, only to be discouraged further.
If you're going to fish the Homer Spit's Fishing Hole, get a tide book. Don't start fishing until the tide begins to come in. You'll notice water coming into the lagoon and then start fishing. I recommend you fish the west end. The best method appears to be to use a float, followed by a 3-foot leader with a single hook and herring for bait. As soon as you set the hook, try to get your catch to shore as quickly as possible. Once the king realizes he's hooked, he'll put up a considerably more difficult fight. You won't require a net. Your fellow anglers will have one and be more than willing to help you land your catch.
When the tide turns in the Fishing Hole, you may want to drive to Stariski Creek for fish action of a different kind. Bring your camera at low tide. Conceal yourself and your photography equipment in the trees and underbrush near the mouth. Almost every low tide leaves a few kings struggling in shallow water. The area is home to several eagles who use shallow water and low tide for hunting for their dinner. These eagles circle, waiting for the right time, swoop and attack a struggling king. The bird is not large enough to fly off with its prey, but it can drag it to shore and quickly dispatch it. Then it shares it with its family and friends. The exercise provides the observer with an excellent photo opportunity and a lasting memory of the national bird taking Alaska's most sought-after fish out to lunch.