One Last Cast
From Alaska Outdoors Radio Magazine
By Evan Swensen
Chapter Fifty-Seven
Take a Kid Fishing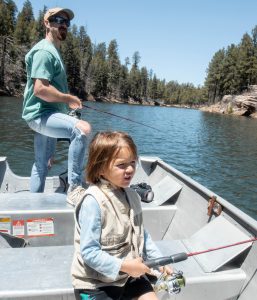 Jesse learned to cast before he could walk. My first recollection of fishing with him is of me standing in hip waders in Ott Lake with Jesse sitting on my shoulders. We were fishing for grayling. He would cast off our right side, and I would cast to the left. More often than not, we would have doubles on.
The last week in May, I took the kid fishing again. We upgraded the drive to the river, a camp-out, do-it-yourself fishing trip to a drive to the lodge, fully guided, someone-else-do-the-work fishing experience. The early run of salt water kings bound for the Kenai River and Upper Cook Inlet were our target.
We stayed at Trophy King Lodge, about 28 miles north of Homer, on the beach between the Sterling Highway and Cook Inlet. Our guide was Mike Constant. It was cold when we left in the boats for the fishing spot.
Like all good guides, Mike had a story to tell until a king hit; then, it wouldn't matter what the weather was, we would be warm. Mike said his dad told him you can't catch if you are comfortable. We were cold and uncomfortable, and we were not catching fish. Mike got Jesse laughing and warmed him up a bit when he said, "If what my dad said was true, this morning I would sit on the side of my pocketknife to make the fishing pick up." Not long after, we took the first hit, then another, and then the third—a triple hit. As the battle raged, we fought to get the fish in without tangling lines. Mike held up his knife and told Jesse, "I guess I had better put my pocketknife away." I can't remember what the weather was like for the rest of the day.
That morning our boat of four fishermen boated nine kings in a 3-hour run on the high tide. We had many others hooked but could not complete the job. Several were close enough to the net when they finally shook the hook that the guide would call it catch and release. Mike named it LDR—long-distance release.
King salmon are born into the world without knowing their parents and die without meeting their children. This may be the reason why they fight so hard. Perhaps they are mad for being raised orphans and dying before their children are born. At any rate, when hooked in salt water, they seem to have a mad on and are determined to take it out on the hook. Since the hook is attached to a line connected to a rod and reel held by a thrill-seeking angler, the battle for freedom brings sore arms, a tired back, and heart-pounding, stress-erasing, and soul-relaxing recreation.
The limit in Cook Inlet is five kings per season. So, keeping three apiece for the locker and Sunday dinner, we released the balance. The last of May left a lot of season before us, and we did not want to fill our tags this early in the year.
At week's end, Jesse went home drunken with fresh, clear salt air, suntanned cheeks, and the overall intoxication that comes from being outdoors catching fish with his dad.
The kid is 30 years older than our first trip to Ott lake.