One Last Cast
From Alaska Outdoors Radio Magazine
By Evan Swensen
Chapter Six
Seward Silver Salmon Derby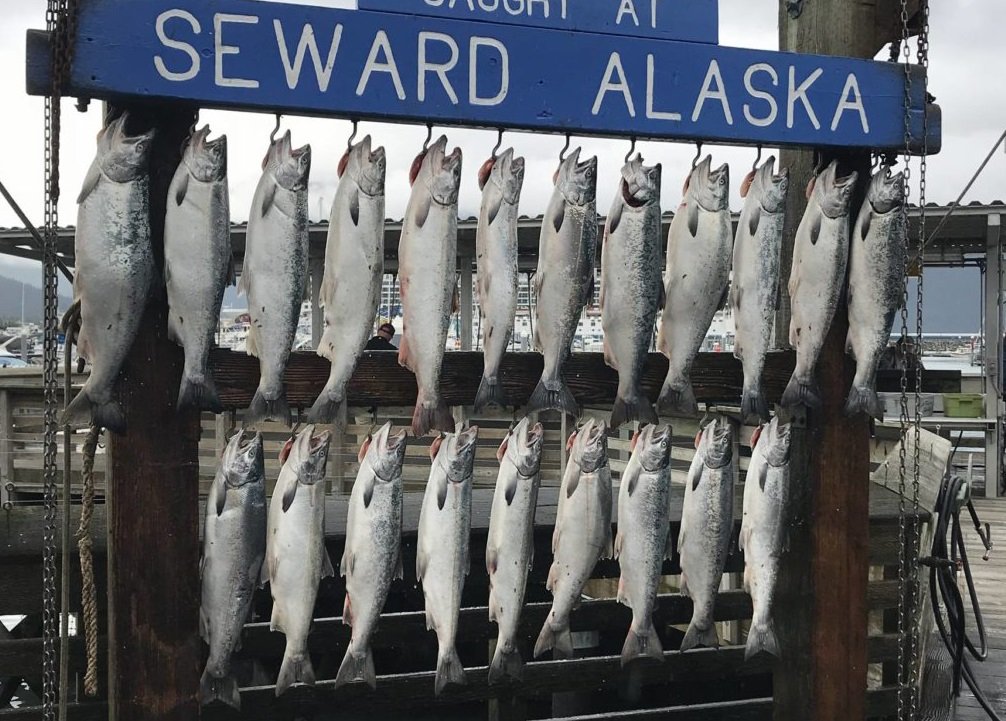 A few years ago, we spent several days in Seward fishing and filming the Silver Salmon Derby. We filmed the whole Salmon Derby experience: folks backing their boats down the ramp and launching them off their trailer. Unfortunately, some forgot to put in the plug, and there were some tense moments a couple of times. Outboard motors were occasionally challenging to start, and we filmed one frustrated guy beating his contrary motor with the broken starting rope.
One Seward Silver Salmon Derby experience we weren't quick enough to film was a hapless angler, loaded with gear and lunch, who tripped at the top of the walk ramp down to the dock. His pride was about all that was harmed, but he sure scattered gear and groceries down the ramp and out on the pier. We witnessed wind overcoming limited skill a few times as boats were backed into other boats when their captain took his operator's refresher course, trying to get his boat out of the harbor and into the open sea. Kids were fishing off the pier near the cleaning station and catching enough little fish to keep up their interest.
People were there from all over the world; some for the first time, some adding one more Seward Silver Salmon Derby to a string of 20 or 30 previous derbies. Some came to meet and talk with friends, others to be a part of the party, but most came to fish—either from a boat in the bay, or from shore, or even off the dock and breakwater. They came with friends and family, they brought their boats, and they chartered. It didn't seem to matter how they got there or who they were with. It was just a big fishing party.
One laughing angler brought a big brute of a silver to the judging station to enter his fish for a prize. It was disqualified. He hadn't met the rules. To be eligible for the contest, fish must be caught with a hook and line. He was laughing because he was fishing just outside the small boat harbor, and his rejected entry had jumped into his boat. It seems there were a lot of jumpers, so he, and others, stopped to fish among the jumping school, and one high-jumping salmon cleared the boat's gunnels and landed on the guy's lap. It made a good story, and probably a good meal, but no prize.
Another angler turned in a 28-pounder, only to discover it was a king, not a silver, and his dream of taking home the money was quickly reduced to two fish fillets.
When you watch the Alaska Outdoors television show about the Seward Silver Salmon Derby, you'll quickly notice that we did more filming than fishing. We spent a week at the derby and never caught a single silver. However, we were blessed with tom cod, a couple of ling cod, two ugly Irish Lords, and things that grabbed our fishing gear and took it with them. Maybe a shark, sea lion, halibut, or probably the bottom.
When the week was over, the final cannon was fired, and the prizes were handed out, we knew we'd had a good time and had a good program for TV. We'd also proved and strengthened our near-motto: If you have to catch fish to have a good time, you went for the wrong reasons. We must have been at the Seward Silver Salmon Derby for the right reasons. We sure had a good time.